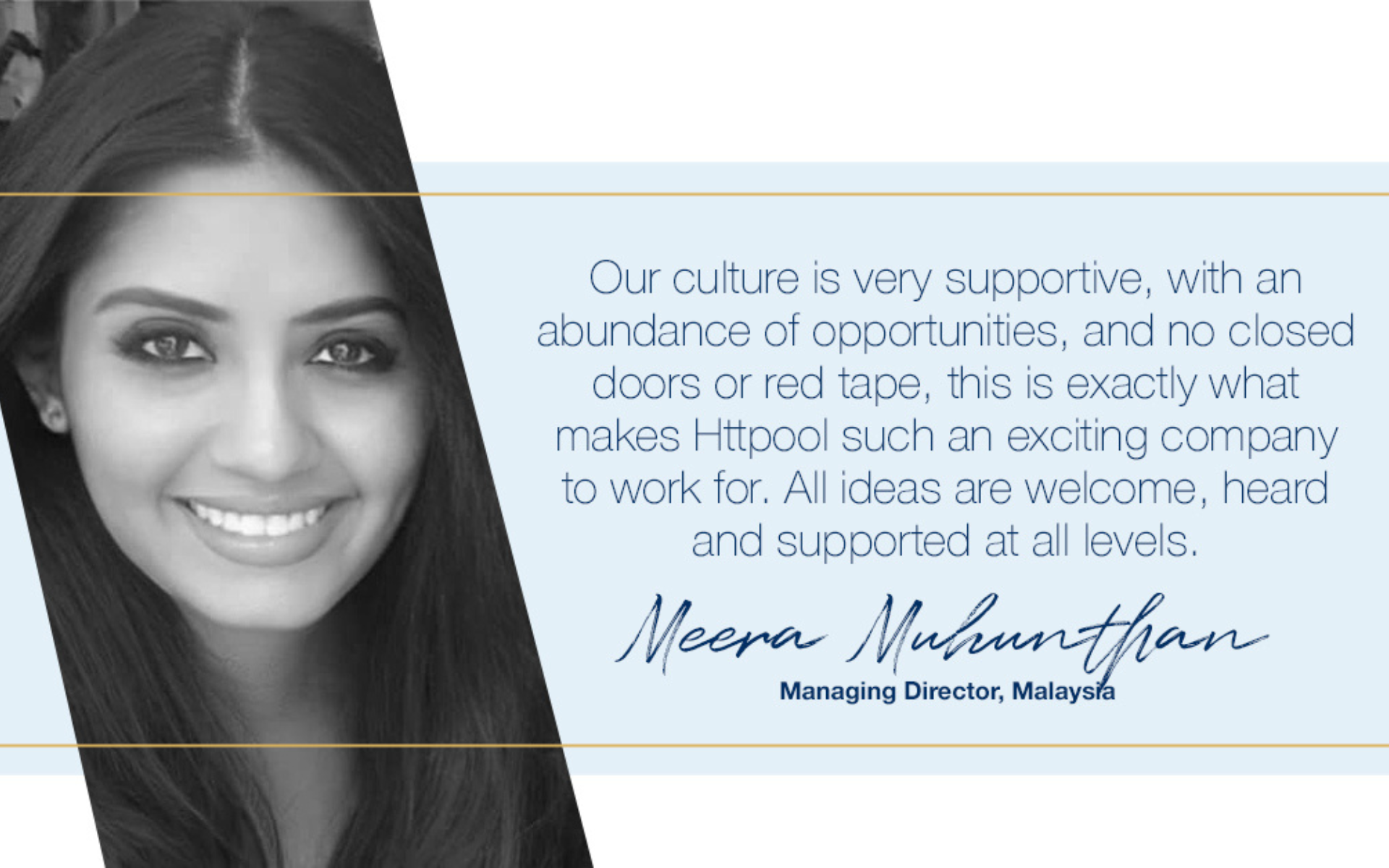 Meera's Story
Meera understands that "what teams need is an understanding and supportive leader, who inspires them to go the extra mile". She is an advocate of an inclusive and understanding company culture, leading her team with a mix of prioritization, delegation, and follow ups.
Meera is the proud mother of two babies, who continue to make her life a real adventure, but finding her own management style, she is now able to effectively juggle between work and family life. "I stopped trying to be perfect or being too hard on myself".
"Our culture is very supportive, with an abundance of opportunities, and no closed doors or red tape, this is exactly what makes Httpool such an exciting company to work for. All ideas are welcome, heard and supported at all levels." she explains.  Having developed her position from  Sales Director to Managing Partner and leading Httpool operations in Malaysia, she undoubtedly has proved this is the case.
Meera believes that the future belongs to those who learn to adapt. "Problem-solving, communication, design, and the use of advanced expertise in interpretation and service will be the skills distinguishing humans from robots in the future" she says. "In the near future, even my job could be partially automated, as AI develops. In an alternative world, I might run a cozy fusion beach bar on an island in Malaysia, Thailand or the Philippines" Meera jokes. 
Meera's advice for young girls choosing a career path:
Finding a job shouldn't just be a perk or purely a source of income. Choose a career path that is fulfilling for you. Start by asking yourself which tasks, duties, and responsibilities you most enjoy in school or work? And whether there are any values, issues, or missions that you feel strongly about? This may be helpful to explore unique jobs that seem fun and enjoyable.